Home of The Transferware Recorder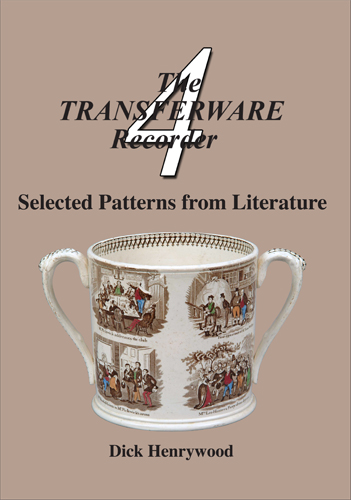 Number Four – Selected Patterns from Literature
Publication scheduled for December 2017
Volume Four of The Transferware Recorder will cover various patterns from literature. Initial work has been done on the following series but others will be added as the project progresses:
| | |
| --- | --- |
| Aesop's Fables series (Minton) | "Byron Gallery" (two different series) |
| "Classical Antiquities" series (Clementson) | Cowper series (John Meir) |
| Don Quixote series (Maker Unknown) | "Humphrey's Clock" series (William Ridgway) |
| "Paul and Virginia" series (William Smith & Co.) | "Pickwick" series (John & Robert Godwin) |
| "Robin Hood" series (Bailey & Ball etc.) | "Robinson Crusoe" series (Brownhills Pottery) |
| Scenes from Dickens series (T. & R. Boote) | "Scott's Illustrations" series (Davenport) |
| Scott's Novels series (John & Robert Godwin) | "The Drama" series (Rogers / Pountney) |
We would be delighted to hear from anyone who can help with information and particularly images for these series, or any others with literary connections. Possibilities include "Aesop's Fables" (Spode), Doctor Syntax (Clews), and anything related to Lord Byron, Dickens, Sir Walter Scott, William Shakespeare, etc. Other suggestions also very welcome. Please email:
recorder@transferprintedpottery.com
Reynardine Publishing. ISBN 978-0-9926581-3-7. Publication December 2017. Sewn paperback 240 x 170mm. Approx. 180 pages, 500 illustrations. Full colour.